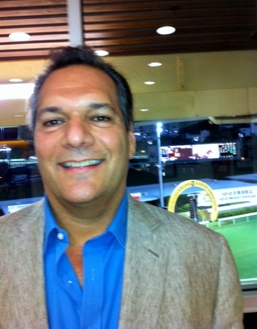 AGE: 50
PROFESSION: Real Estate Management and Development (The villain in every movie)
HOMETOWN: Born in Santa Monica, and lived in Fresno, LA, and Paris. I can call them all home.
COLLEGE: USC
FAVORITE FOOD: Hard to pick one food as my favorite. Just don't give me cooked carrots!
FAVORITE PLACE VISITED: I love Paris. I would love to move back one day.
PLACE YOU WANT TO VISIT: I'd like to visit Rio and Buenos Aires.
FAVORITE MOVIE: The Godfather
FAVORITE SINGER: Me, in the shower.
HOBBIES: Golf, Horse Racing, Rugby (now only on TV), USC football, and dirty diapers.
BACKGROUND: When I started Sonki Fitness four years ago, in my first 12 week period I lost 25 lbs. Better yet I went to my doctor, and my blood pressure was down significantly. He had wanted to give me blood pressure meds, but he did not. He said my blood pressure reduction in 12 weeks was as good as if I had been on meds for the 12 weeks. I still need to lose some weight to get down to my college playing weight, but no blood pressure meds are needed. This has been great! Even with my weight training from before I could not lose the pounds. The class kick started my weight loss with little or no knee pain. Sonki  Fitness got me out of a fitness rut (dull gym workouts). I got motivated and avoided some medical issues. Now I work out smarter.
What is your current exercise routine? Sonki Fitness Boot Camp on Tuesdays and Thursdays with Mike, weight training at the gym, and extra cardio if I over indulge.
What is your motivation to stay in shape? I began Sonki Fitness to avoid medication, but now I stay in shape for my 1 1/2 year old son and wife.
What is your greatest challenge to staying in shape? Injuries. I need to be careful of a bad knee from 25 years ago and my newest challenge, Plantar Fasciitis. But I can't stop now. I just have to listen to my body and exercise smarter.
What is your key to success? NOT GIVING UP! PLAYING THROUGH THE PAIN. BEING SMART ABOUT HOW I EXERCISE.
What do you like about Sonki Fitness Boot Camp and how has it affected your life? Sonki Fitness is perfect for the effort I am able to put into my workout. With Mike's help I push myself to the point of greatest benefit without injury. I love that no matter what, rain or shine, winter  darkness or summer light, Sonki Fitness Boot Camp is ON! It's up to me. No yelling and no pressure and a workout that fits my needs, whether I'm at 85% or 100%.
What advice would you give to others about fitness? You can't quit! Don't whine because no one wants to hear it. After you get into a routine, it's fun! It really is.
Any other comments? I am an older dad. I had my one and only child at 48. It's my goal to play with him without excuses or problems for as long he wants to play with me. I can't let the younger dads have all the fun. It's not such a problem that I still think I'm 30. If I can stay fit, my son will never think of me as an old man because I can't keep up or do the activities he wants. He will think of me as old because I hate the music he chooses. Finally, my wife loves the fact that Sonki Fitness is helping me stay fit and healthy.